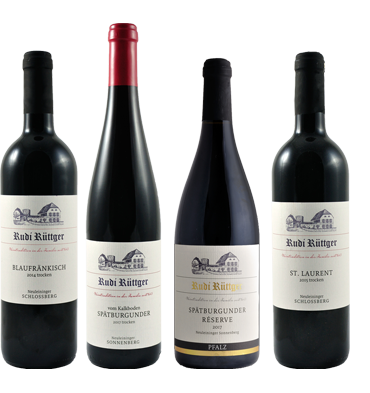 About 40% of our vineyards are planted with red varieties.
All red wines are fermented on the mash, enjoying a rather long maceration, and pass through a natural malolactic fermentation. They would not be bottled before 1 - 4 years after that.
Spätburgunder, St. Laurent, Schwarzriesling and Dornfelder grow here for a long time, as they are our most typical red wine varieties. Most of them should come out rather light and fruity, with no overloaded phenoles.
In opposite to that, we also offer more challenging, complex wines from our best grapes. They experience a rather long mash fermentation, combined with a longer (partly barrel) aging.
Here, in particular, the cuvée Merlot & Cabernet Sauvignon, but also Blaufränkisch or Spätburgunder Réserve (100% barrel) stand out.